Oceanside Hot Tub, Winner of the 2019, 2020, 2021, and 2022 "Best Of The Seacoast" Pool and Spa Store.  Thank you to all who voted for us.  We are very proud to win this prestigious award.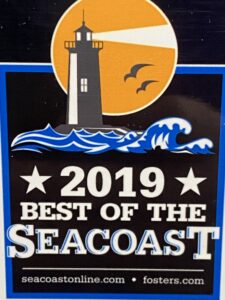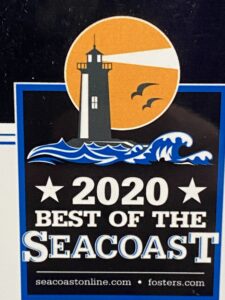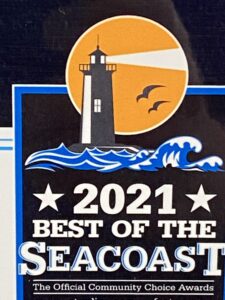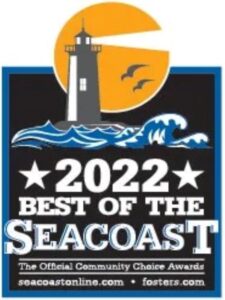 Below are just some of the customer reviews we have received on Facebook, Yelp and Google.  We have 100% customer satisfaction and that means alot to us!  **If you would like to leave us a google review simply click on the link:  https://goo.gl/QsZMhz  and fill out the review form.
We purchased our Wellis hot tub in July and let me tell you it's amazing. We were a little skeptical as we'd never heard of the brand, but apparently it's big in England, but boy we're we surprised. We had a Marquise at our old house and this tub blows it away. This tub is so well built and so powerful.
In addition to the great hot tub, we had top quality service from John and Steve. John took good care of us when we purchased the tub, and Steve quickly took care of us and came out to the house when we thought there was an issue which ended up being user error :(. Although I was a bit embarrassed, Steve took the time to teach me about how the different nobs and motors work, and hopefully now we won't have to call them again.
If you are in the market for a hot tub, Oceanside offers top quality tubs and AMAZING customer service. Thank you John and Steve!!!!
************************************************
After researching every possible local option, and believe me, I mean literally every single place. (My wife had enough after the fifth one!) we found Oceanside hot tubs! I wish we started here. The information Steve could give us about the process was endless. He was responsive and thorough. Many times you call places, or stop in and they are worried more about the sale then anything. Steve not only met us at the time we wanted to meet, but he at no point made me feel like h
e was pushing the sale of any hot tub. I felt like he just wanted us to have all the information to make the right choice for us. We decided on the one we wanted and have been happy ever since!!!! Steve was also patient while I built the patio for the hot tub, then delivered it when we were ready and the delivery went smoother then I could have imagined. By the next day we were in it and we couldn't be happier. Even after the delivery Steve has answered any silly question I have had. Never making me feel like it's a silly question. We absolutely love our tub and would recommend Oceanside to everyone and anyone who is looking for a hot tub! Thanks again for making our purchase such an easy and enjoyable process Steve and John!!!
**********************************************
Charlie Morrissey  recommends Oceanside Hot Tub.
Went to look at hot tubs there 2 weeks ago after going to several other hot tub stores. very pleased with the service and info these guys gave us! we ended up buying a tub by the time we left and spent half of what we would have spent at any of the other places we went. These guys are great it was not like dealing with some pushy sales guy just trying to make a commission on a sale. I would highly suggest buying a hot tub from these guys
*******************************************
My wife and I just purchased a hot tub from the gentlemen here. We shopped all over and got the best and lowest deal here. Great selection and customer service was fantastic. We would definitely buy from them again and we love our new tub. Keep up the good work guys.
********************************************
Stand up guys - Nothing fancy just a great deal for hot tubs along with great advise and even better support. We bought a Signature hot tub from them and it leaked. It turned out to have 2 leaks as a matter of fact. They fixed one and had to come back. They said they were not going to have us go around and around with them trying to fix it. They asked us to come in and pick out a new tub. They swapped the tubs even though Signature would not take back the leaking one. Did I say Stand Up Guys ? They took back our tub that they could not be reimbursed for and didn't blink. Intangible- even though you are buying in a no frills location, you get the vibe that these guys are above board and will stand behind you. They did! PS we love our new spa.
********************************************
Holly Barton  recommends Oceanside Hot Tub.
We purchased a hot tub from John. He was not your typical sales person he was very pleasant and easy to work with not pushy at all. We had a little hiccup with our purchase but John made it right. He is a man of his word. Love the hard cover. Glad to never have to replace it. We use the hot tub all the time. Love it! I would definitely recommend John if you're looking for a hot tub and a great deal.

*************************************
Garth Morin
2 reviews
44 minutes ago
My wife and I recently purchased a new hot tub from Steve and John at Oceanside and were pleasantly surprised. The Hot Tub was delivered on time and they even helped us move and place it where old tub used to be.
We had an issue with a fuse that blew during the process of hooking it up to electricity and they were there every step of the way to help us rectify the issue.
We started using the hot tub again for the cold weather this month and had trouble with one of the diverter valves which they ordered and immediately replaced at no cost the day the product arrived.
Great business and good guys.
Garth Morin - Dover NH
*************************************
Scott Letzelter
2 reviews
3 days ago
John was great to deal with. Great price, great service and so helpful. I had an issue with the cover and he ordered a new one to replace it and with in a couple weeks, it was in and on top of the tub. I would definitely recommend and buy from him again.
*************************************
John Kerins
6 reviews
a week ago
We puchased the hot tub 2 years ago, and the experience was great. Steve and John let us know that they would be there for us, if needed. Recently we encountered a minor issue with the tub, and Steve came out, and repaired it. We were out of state, and he kept us in the loop through out. All set. Recommend Oceanside
************************************
Kristi Smith-Perry
3 reviews
4 days ago-
We purchased a hot tub from oceanside this summer and have been thrilled ever since. We came to see the tub on a Sunday and by Wednesday it was at my house. Upon arrival we noticed that one of the speakers didn't work but no problem! Another week later and they were back installing new ones for us. very honest guys who aren't trying to make a fourtune on us! We loved them so much that we want to now incorporate their tubs in each of our flip homes! As long as oceanside is around we will forever be a customer!
*************************************
Kim Macenas
1 review
a month ago
My husband and I did our research looking for a hot tub. We ended up buying one from John and Steve at Oceanside and we couldn't be happier. They were both extremely knowledgeable and there was no sales pressure. We would highly recommend them if you are looking for a hot tub.
*************************************
Ryan Moore
2 reviews
4 weeks ago
I purchased a Catalina Hot Tub from John this past weekend. John is in a transition to a new location but his service was excellent and he knows his products well. I had a small hiccup and John the owner couldn't have been more helpful. I highly recommend this place for anyone's next purchase they are second to none!
*************************************
Brian C
2 reviews
3 weeks ago
We had a great experience buying our hot tub from Oceanside. We saved thousands by purchasing it from them compared to other dealers. They might not have a showroom but that part doesn't matter after the sale. The are also the authorized repair retailer so it was a no brainer for me
*************************************
Toni B     — 5 star
Buckfield, Maine
5/14/2018
We recently purchased a hottub through Oceanside Hot Tub. Jon and Steve were very professional and had us financed quickly. Oceanside beat everyone else's prices by thousands of dollars. The service was great! We will always take our business back to Oceanside. Thanks Jon and Steve!!!!
*************************************
Rick B.
Salisbury, NH
1/12/2018
OMG! This place was not what I thought it would be. Just a garage, no heat, no bathrooms, no bells and whistles, just down to earth people, and a lot of Hot Tubs. First they saved my wife and I about $3000.00 to $4000.00 dollars compared to the big names stores, and John & Steve made you feel like you were family. Great service. We highly recommend them.
Rick & CJ
*************************************
Tim O.
Rochester, NH
11/15/2017
The Dynamic duo of spas and tubs...
great guys to deal with and they were always willing to return a call even on a sunday afternoon as I was trying to finish up my install...
I'll definitely buy from them again
Thanks guys
*************************************
Bath, ME
7/25/2017   Updated review
So they aren't fancy and there is no show room to speak of, just an unheated garage.  But we spent approximately half of what we were going to spend in one of the fancy dealers.  We have been very happy with our hot tub and though we had some minor difficulties of our own making during the installation the boys were able to set us straight.  We saved a little extra by picking up the tub ourselves and getting it into place was a bit of a challenge.  But with enough people it worked out fine.  Had our tub for 7 or 8 months with no complaints.  Their tubs are not completely encased in foam which they advised against and I must say some friends that had a tub like that had some major problems that were really difficult to fix cause you could not get at the problem without getting rid of all the foam.  The biggest difficulty I had was figuring how to drain the darn thing.  Think I figured it out on line.
*************************************
5/2/2017
These guys do a great job . They have the best deals on hot tubs and customer service !!
*************************************
Umesh R.
Steve and John are excellent people to do business with. I purchased a very high quality hot tub for a very reasonable price. I highly recommend them for your hot tub needs. It was a true pleasure and a great buying experience.

*******************************
*******************************
Lew W.
9/19/2017
We had a problem with our hot tub and were finding it very difficult to identify anyone nearby who could provide service.  Steve helped us figure out what was wrong and also referred us to someone who was able to fix the unit.  Our impression is that he is both knowledgeable and customer oriented, and the next time we need assistance or are considering purchasing a hot tub, Steve and Oceanside will be our first call.
*************************************
Steve S.
Clinton, MA
9/19/2017
Steve was very courteous and professional. Purchasing my hot tub with him was very easy. I would recommend anyone looking for a hot tub to go see Steve. Thank you!
*************************************
David D.
Hampton, NH
4/18/2017
From start to finish the process of buying a new hot tub from Ocean Side hot Tub was seamless . The staff was very personable and patient as my wife and i were deciding which model would fit our needs .
************************************
Patricia H.
12/14/2016
I recently purchased a Signature Spa from Oceanside Hot Tub & Spa. I was extremely nervous about the purchase since this place really is just a garage on Rt 1. I had been looking to replace my old tub for a new one and the Signature S7 Spa as they say, spoke to me. The spa had a business card taped to it and I called the number. John was there in 5 minutes and we negotiated a deal. I COULDN'T BE HAPPIER!!! The service and quick response of John and Steve are outstanding. I recently thought I had an issue with my tub, I called and they came within 1 hour. It turns out that it was operator error, but my fears of not having anyone to service my spa was totally alleviated. I would highly recommend Oceanside Hot Tub & Spa to anyone who is looking for either a first time investment, or to replace an old spa.
*************************************
Howard D.
Sanbornton, NH
11/29/2016
The owner Steve of Oceanside is a great person. Very honest in the way he does business. I needed service an hour away but recommended another service tech that could help me sooner.  I will definitely find a way to do business with Oceanside tub and spa in the future. Thank you
*************************************
Jerry H 5 star
Couldn't be happier with my hot tub. Price was great, service and delivery was spectacular. The place to go if you want a quality hot tub at a very good price.
*************************************
Ashley 5 star
Bought our first Signature Spa from Oceanside! Service was beyond excellent. Prices were more than reasonable. Highly recommended!
*************************************
Tim  5 star
Second week with my new Hot Tub!
Loving it!
Thanks Steve and John for your help and experience in picking the right one...
And thanks for returning my calls, as a new spa owner it's good to have a company that is knowledgeable and supportive of the customer after the sale...
Thanks…
************************************
5 stars!
*************************************